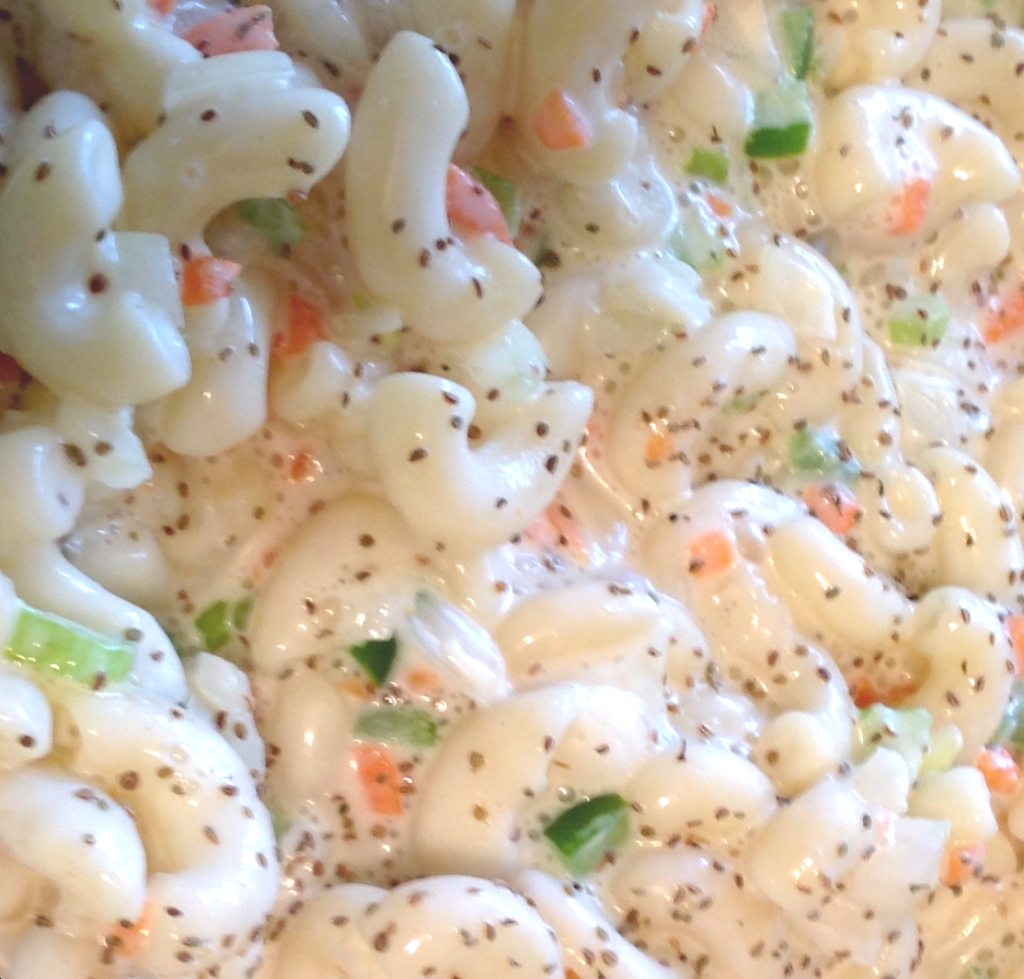 Ahhh, macaroni salad! Who doesn't love pasta and veggies dressed with a special "sauce"? Because this salad keeps well in the fridge without losing its flavor or texture, it was on my carry-in list to my sister's house for Christmas again this year. The secret to the salad's great taste is found in the sweetened condensed milk used in the dressing. Cutting the vegetables for this dish by hand does take longer, an exercise in determined effort more than anything else, but the moisture the veggies release using a food chopper detract from the flavor of this dish and you will have better results taking the time to slice-and-dice them yourself.
The secret to the salad's great taste is found in the sweetened condensed milk in the dressing. Use just enough mayonnaise to prevent the dressing being runny as this keeps the pasta from being overwhelmed. I already adjusted the mayonnaise amount; you should start with the smaller amount then adjust to your taste. This yields a large bowl of salad so it is a perfect choice for a "next day" menu as well. Do try this and let me know what you think; it is not the typical Hawaiian-style plate lunch mac salad, y'all, but it is a good alternative. Don't over cook the macaroni and it's all "duck soup!"
Ingredients
For the salad
1 (16 oz.) pkg. elbow macaroni, cooked, drained well
1 large onion, chopped, small dice
1 large green pepper, seeded, cut into strips, then cut, small dice
2-3 stalks celery, cut into thin strips then diced
3 carrots, shaved into strips then snipped small
For the dressing
1 can Eagle Brand sweetened condensed milk
1-1/2 to 2 cups Hellman's mayonnaise, to taste
1/4 cup cider vinegar
Salt & pepper to taste
Celery seed, to taste
Directions Prepare the vegetables. Cook macaroni according to package directions; drain well in a colander. Prepare the dressing by combining the milk, mayonnaise, and vinegar in small mixing bowl, whisking thoroughly to blend. Season dressing to taste with salt, pepper, and celery seed if using. Place well-drained macaroni in large bowl, add the vegetables and the dressing; stir well, folding the dressing in thoroughly to coat the macaroni. Scrape into large covered container and chill completely before serving. Store leftovers in fridge.